St Hughes College Oxford History Essay Competition 2013
Announcement of the 2015 Winners.
This year there were 118 entries for the Julia Wood Essay Prize. Exceptionally, the Prize was awarded to a candidate in the Lower Sixth: Joshua Kimblin, of King Edward's School, Birmingham, for his essay entitled, '"A king in all but name": To what extent is this an accurate reflection of the nature of Cosimo de'Medici's power over Florence between 1434 and 1464?'.
The Committee also awarded a second prize to another Lower Sixth Former: Mia Bellouere, of Lancaster Girls' Grammar School, for her essay on the significance of the Enlightenment in the origins of the French Revolution.
The two essays are now available to view below.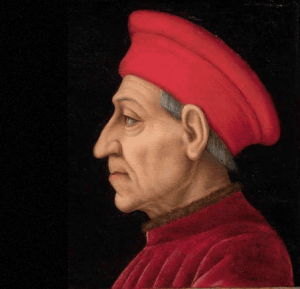 The winning essay was a study of Cosimo de'Medici's power over Florence.
Winning Essay 2015 – Joshua Kimblin
Runner Up Essay 2015 – Mia Bellouere
Class of 2015 graduate Samuel entered the prestigious Julia Wood Essay competition, run annually by St. Hugh's College, Oxford University, this year. The competition judges exclusively History essays.
Whilst narrowly missing out on first place, the quality of Samuel's work has been recognized by St Hugh's College and they have invited him to the prize giving dinner at St Hugh's in October. This is a further example of the high quality of work that students at St John's produce.
In addition, Samuel's IB Extended Essay, along with that of fellow class of 2015 graduate Anna-Livia, both scored the maximum 36 out of 36 in History.
Sam 'very analytical style of writing and great research skills contributed to his success. He interviewed three published Historian's as well as using a wide variety of good quality resources.
Anna managed to bring together a number of complex theories and present them an intelligent manner. Her evaluation and analysis were of a very high quality.
Congratulations to Samuel and Anna-Livia!